Company and Code of Conduct
Thermal Transfer (R)Evolution
Be unique. Beyond standard
Exceptional Service, Impressive Product Variety, and Trusted Customer Relationships
We are KURZ - your world-leading specialist in thermotransfer and hot-stamping solutions for over 120 years!
Let our expertise win you over, and choose KURZ as a strong partner for your printing projects!
Here's what customers around the world appreciate in our work:
Unrivaled product diversity
High quality, from standard to custom-made
Individual advice for small and large companies
Meeting your specific needs and requirements
Partnership-based customer relationship on an equal footing
Transparent and clear communication
Help and support - anytime, anywhere
Simplification and handling of the tasks associated with your delivery processes
Support in product selection, delivery, and integration
An Excellent Service Experience
KURZ makes your work easier. Through close collaboration and a friendly relationship with our customers, we ensure smooth processes and optimal results:
We make your work process as simple as possible. Whether you're a one-(wo)man show or a large corporation, we'll meet you where you are in the process and provide the service and advice you need. Nothing more and nothing less.
As a reseller, all you have to do is write the invoice, we'll do the rest. If desired and possible, we will deliver the goods directly to your customers, including the corresponding delivery note.
We support you in finding the ideal thermal transfer ribbon solution, taking into account your specific requirements and needs.
We would be happy to carry out test printing processes for you on various printers or substrates - on our premises or yours.
We help you to support your own customers in the best possible way.
We won't leave you on your own for any challenge. With us, you are safe and receive help as quickly as possible, so that your project can be carried out unhindered.
A Wide Range of Products for Individual Requirements
Our thermal transfer ribbon solutions not only impress with their excellent quality and resilience, but also revolutionize the market with amazing extras. With our ribbons, you get highly customizable rolls in terms of length, width, and core, as well as color and texture of the colored layer itself.
Discover Our Three Product Areas: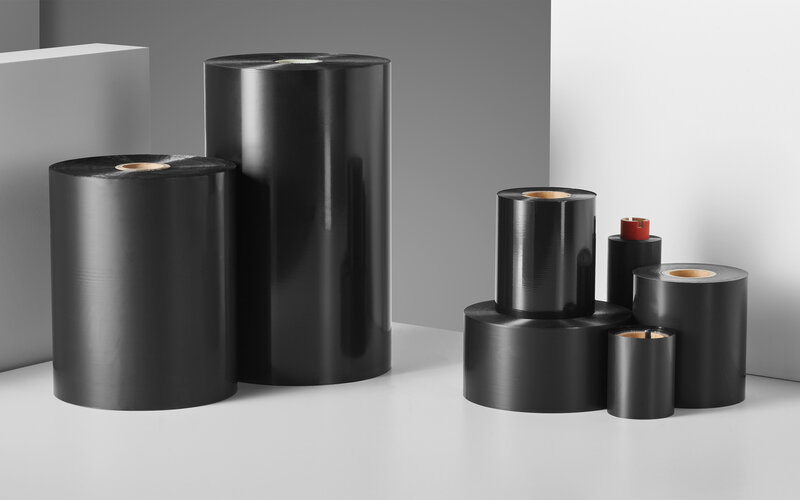 Communicating
Subtle look, strong performance - our black KURZ Thermal Transfer Ribbons (TTR) perform a significant function for you and your product when it comes to label and direct printing. You get no less than sharp-edged, durable printed products that will last a long time. We are proud of our personal service that we've been providing to our customers for years.
Discover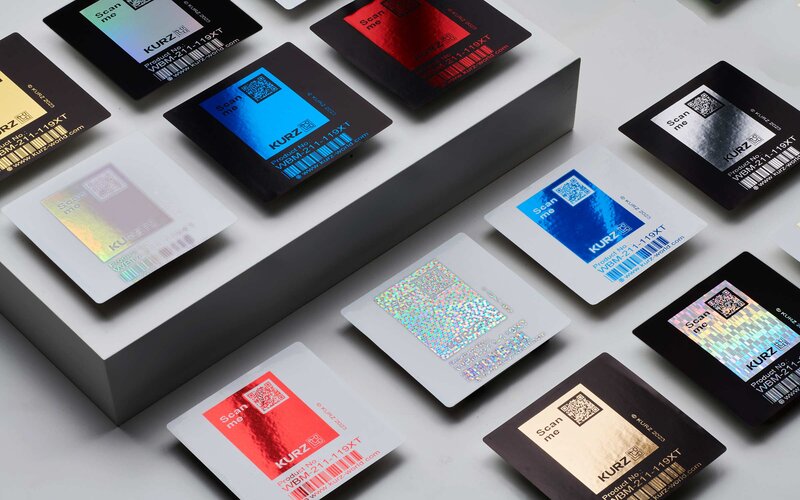 Branding
Your corporate presence is unique. And this should extend to your printed products. We develop your corporate color quickly and reliably for your individual color ribbons in the best KURZ quality.
Design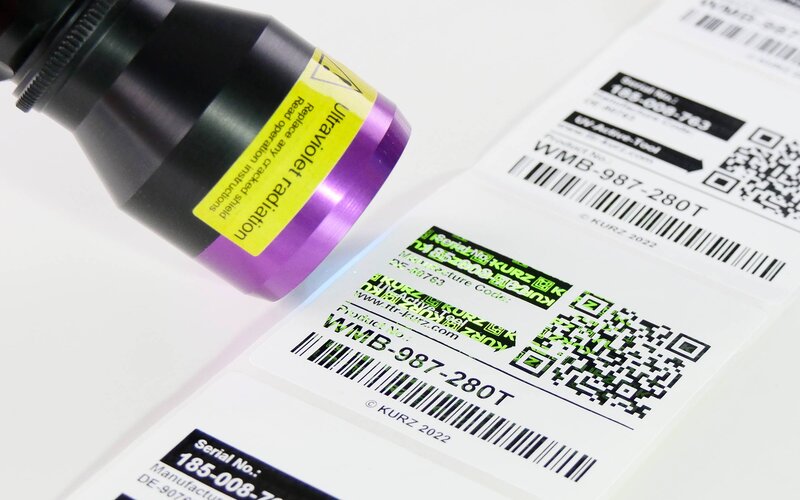 Protecting
No chance for counterfeiting! We offer you solutions with that (invisible) certain something in terms of security and counterfeit protection. In doing so, we focus on innovations without forgetting tried and tested solutions. We would like to be a reliable and conscientious partner for you, especially when it comes to such sensitive topics.
Secure
We take the time to get to know you, your company, and your customers in order to provide you with the best possible thermal transfer ribbon product. You can rely on us as a consultant thanks to our many years of experience in the fields of thermotransfer, market developments, and customer needs.
More than just a Business Partner - We're There for You!
We believe that a close relationship of trust, communication on an equal footing, and well-coordinated cooperation are important factors for sustainable success.
As a KURZ customer, you are our number one priority and enjoy support in line with the highest quality standards - no matter the topic.
Our experts will accompany you as intensively and for as long as you like, from initial contact to routine orders. Our dedication, enthusiasm, and commitment are greatly appreciated by our customers, and we are very proud of this:
Support in day-to-day business and for special challenges
Transparent communication without open questions
Reliable points of contact that remain by your side
Fast responses to questions and problems
Taking individual wishes and needs seriously
Careful Dealings with People and Institutions - Our Code of Conduct
As an employer and sales partner, we have a high social responsibility towards our employees, suppliers, and customers, as well as towards the public. The same applies to government agencies and authorities.
We want to treat all these people and institutions with care and in the right way.
That's why we have incorporated a Code of Conduct into our corporate strategy. All KURZ employees are committed to this Code and are guided by the following internationally applicable standards:
The conventions of the International Labor Organization (ILO),
The UN Declaration of Human Rights,
The European Convention for the Protection of Human Rights and Fundamental Freedoms,
The OECD Guidelines for Multinational Enterprises,
Agenda 21
TTR Color Sheet
Take a Look
Sample Order
Get Our Free Samples
TTR Know How
Learn more